Will Albuquerque Get Snow this Year?
Posted by Elizabeth Karsten on Friday, October 23, 2020 at 2:12 PM
By Elizabeth Karsten / October 23, 2020
Comment
If you've spent the winter in Albuquerque, you know how beautiful our city is this time of year. But, you know what makes our city even more beautiful? Snow!
It doesn't snow often in Albuquerque, but most years we get at least a few snow flurries. But, there is a way to tell if Albuquerque will get snow this year — at least to some degree of certainty. We did our research, and we're ready to help you answer that all-important question: will Albuquerque get snow this year?
What part of Albuquerque?
Albuquerque is a city with a lot of variance in terms of topography. In the foothills of the Sandia Mountains, Albuquerque sits at an elevation of about 6,700 feet, whereas the Rio Grande Valley area sits closer to 4,900 feet. As you can imagine, close to 2,000 feet of variance in elevation can lead to a pretty significant difference in weather patterns as well. It is not entirely unheard of for residents of the foothills to experience snow and cold temperatures when residents throughout the rest of the city do not.
Luckily, if you live closer to the center of the city and you wish to visit the foothills to take in some wintry sights, the drive is short and simple. Snow can't be guaranteed in the foothills, however. For a guaranteed winter wonderland at almost any time of winter, check out the Sandia Crest — about an hour drive from most of Albuquerque. You can even check live weather conditions before making the trip up to the crest.
What are the weather forecasters saying about snow in Albuquerque?
The Old Farmers Almanac is one of the most relied on sources for weather prediction. The almanac has a weather prediction for this year. However, it is hard to use it to determine definitively whether or not it will snow in Albuquerque, because this particular forecast lumps Las Vegas, Tucson, Phoenix and El Paso into the same prediction. However, the forecast is still likely loosely correct.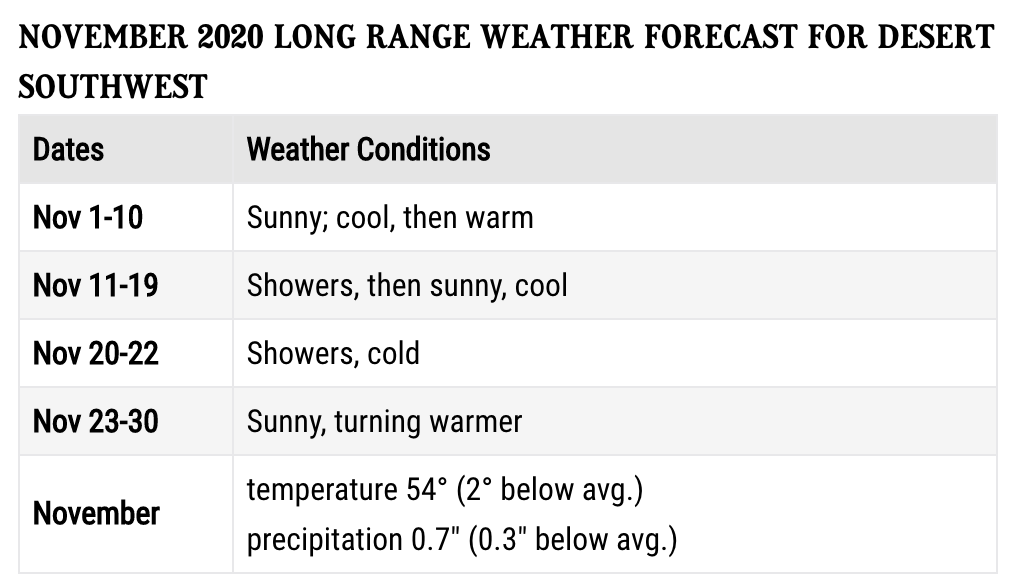 According to the National Weather Service in Albuquerque, it is pretty likely that Albuquerque will get at least some snow this year. According to their research based on 30 years of weather data, Albuquerque averages between 5.1 and 10 inches of snow annually.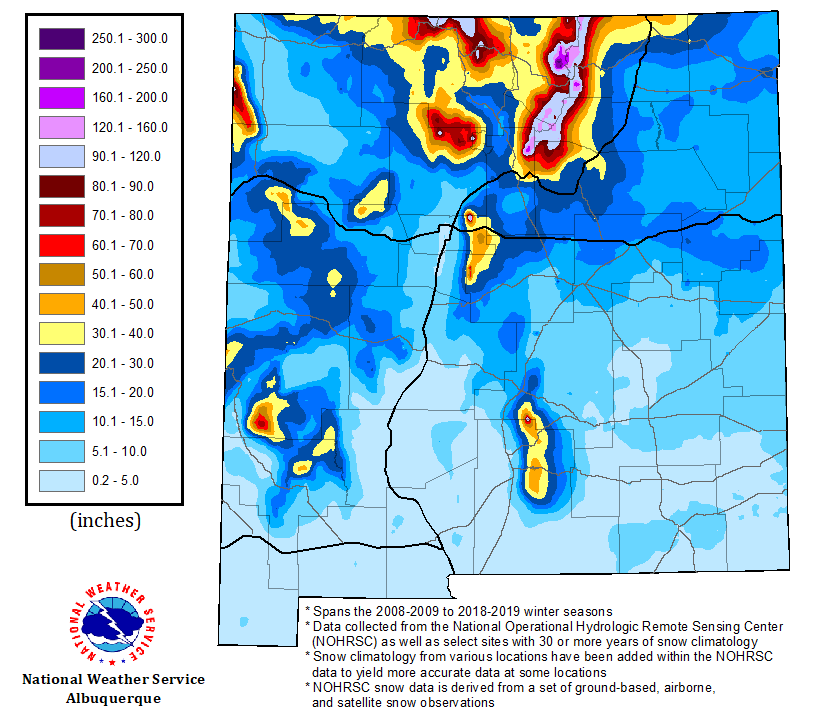 According to this same dataset, the earliest snowfall data on record in Albuquerque is October 5th. Since we've already surpassed that date, we won't be breaking a record for earliest snowfall this year. However, the average date of the first snowfall in Albuquerque is November 21st. This means, we still may experience snow in Albuquerque — and quite soon, at that!


Source: National Weather Service Albuquerque
According to snowchance.com, who reportedly relies on, "accurate methodology used on this site after 50 years of research, development, testing, and fine tuning," the highest chance of snow this winter is on January 18, 2021 when there is 61 percent chance of snow in Albuquerque. The second most likely dates are November 27, 2020 and January 16, 2021 when there is a 60 percent chance of snow in Albuquerque.
So, bottom line, will it snow in Albuquerque?
Though the models differ, and different sources have varying predictions, it is likely that it will snow in Albuquerque this year. Nearly everyone can agree on that. However, what is yet to be seen is how much, and how often, it will snow.
---
One of the best things you can do for yourself to prepare for snow in Albuquerque is to find a home that has a fireplace. Luckily for you, we've made it easy. Check out the real time list below of homes for sale that have a fireplace. Then, when you're ready, contact us to begin your home search in Albuquerque.