Where to See Fall Colors in New Mexico
Posted by Elizabeth Karsten on Monday, September 21, 2020 at 11:54 AM
By Elizabeth Karsten / September 21, 2020
Comment
One of the most magical times of year in New Mexico is the early fall when the leaves suddenly begin changing to the most glorious golden yellow hue. This change happens at the same time across the state and only lasts for a few weeks. According to the USDA Forest Service, "Fall colors typically begin mid to late September in the higher elevations of the national forests of Arizona and New Mexico. Peak viewing is early to mid October."
You may find yourself wanting to take advantage of this "golden window" of time and take a trip somewhere to see the fall colors in New Mexico for yourself. If you're wondering where to see fall colors in New Mexico, you're in luck. We've rounded up the top locations to find fall colors in New Mexico and listed them below — enjoy!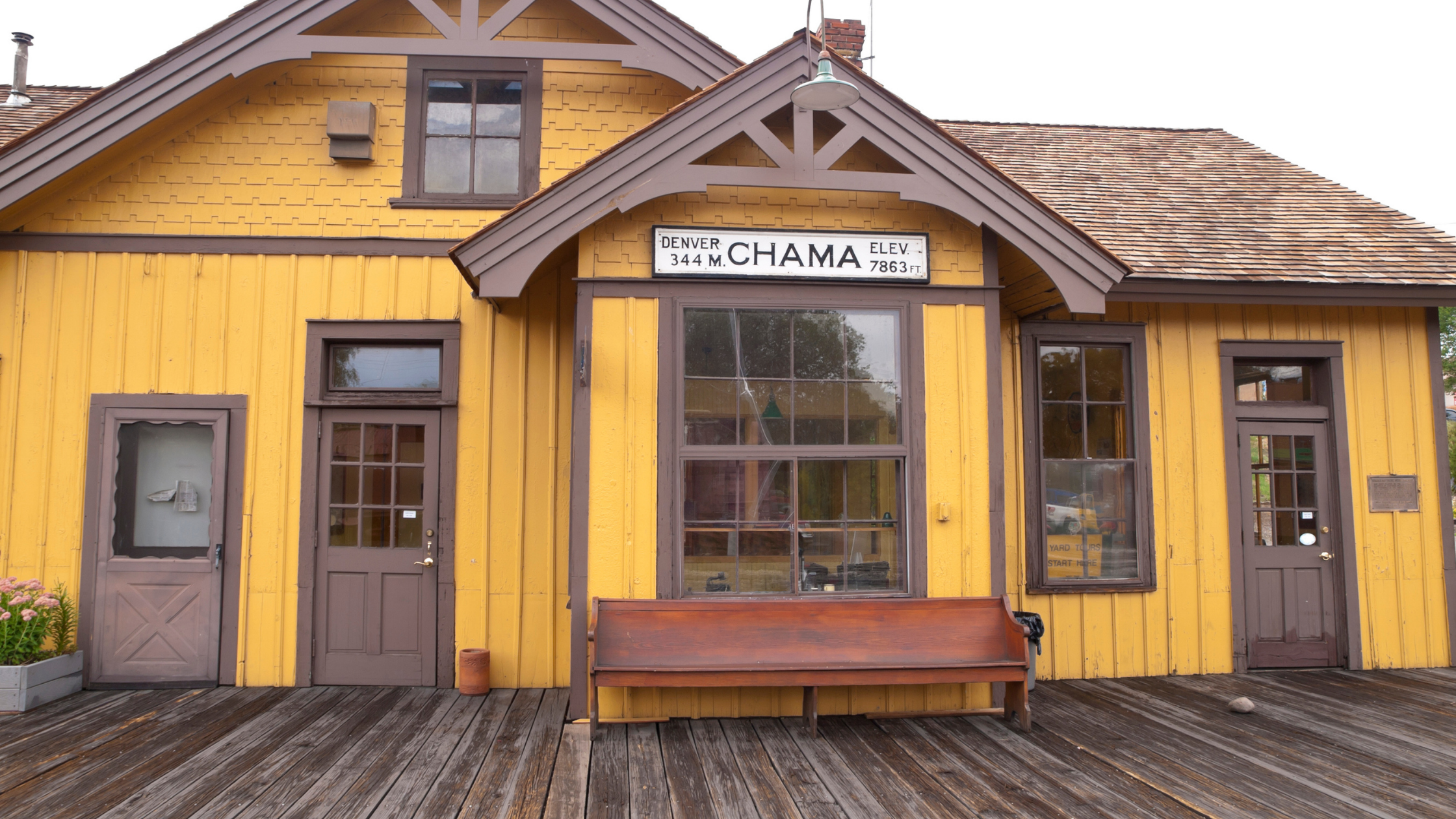 1. Take a ride on the Cumbres & Toltec Scenic Railroad
One of the most popular activities to see fall colors in New Mexico is to take a ride on the Cumbres & Toltec Scenic Railroad. This historic railroad line takes passengers through a gorgeous, scenic passage between Chama, NM and Antonito, CO. The railroad cars are pulled by a class steam engine and feature expansive windows for your viewing pleasure. According to the rail line staff,
There are hints of gold showing in the high Rocky Mountains, heralding the impending arrival of glorious fall colors. Step aboard the Cumbres & Toltec Scenic Railroad (C&TSRR) for a trip back in time to the 19th century, where steam railroads at 12 mph were the state-of-the-art fastest way to travel and there were no cell phones or automobile roads. There were, however, mountainsides of brilliant aspens and the Cumbres & Toltec still steams through them, just as it has for 140 years. Voted for the third consecutive time by the readers of USA Today as the nation's "most scenic train," the Cumbres & Toltec is a National Historic Landmark that moves – a completely authentic steam railroad ride through the Rocky Mountains of Colorado and New Mexico. The nation's most scenic train is particularly gorgeous in the fall as it steams past thousands of colorful aspen trees.
If you're looking to see fall colors in New Mexico, this is one of the premiere ways to do so.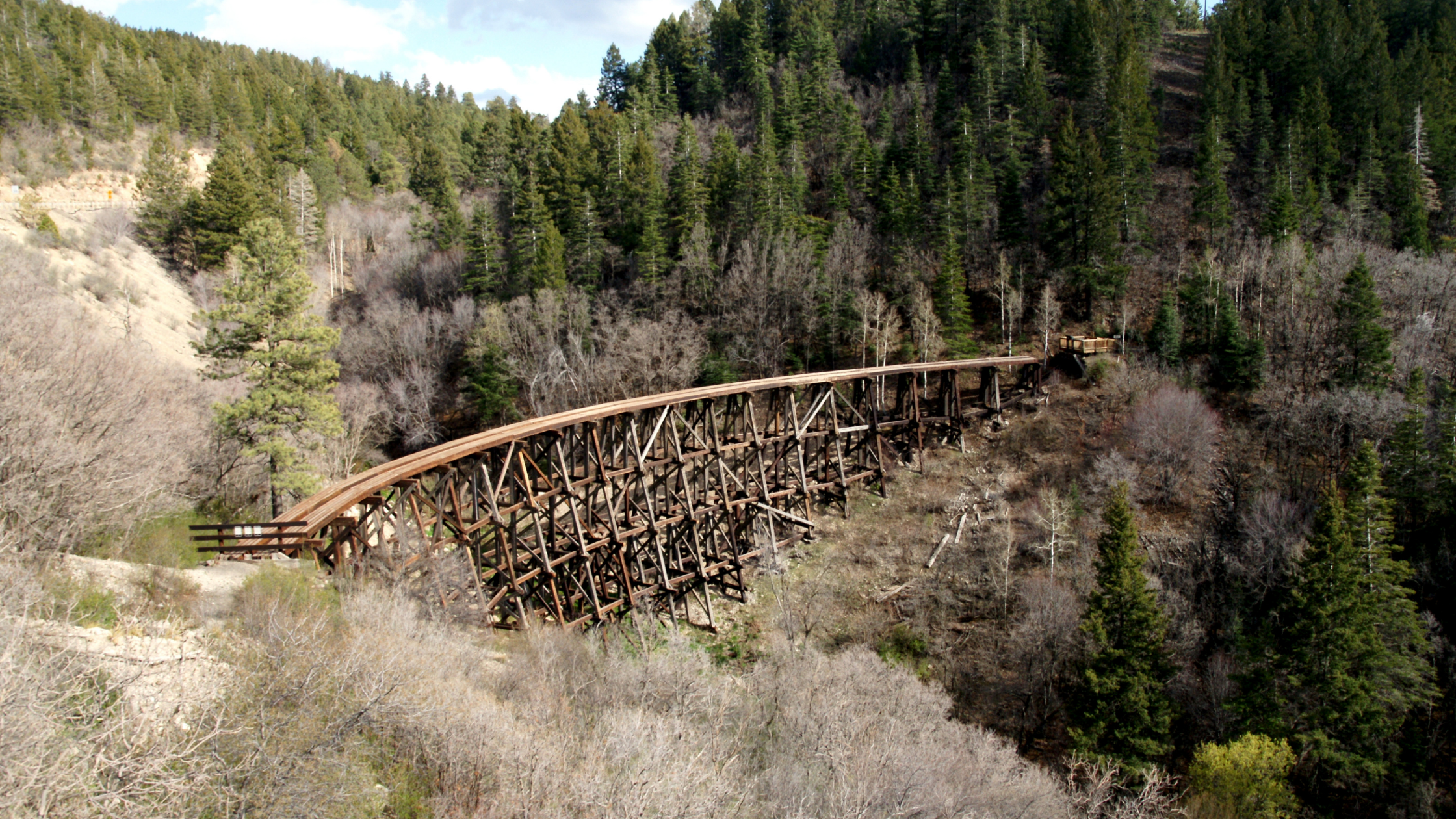 2. Cloudcroft, NM
Cloudcroft, NM presents an interesting landscape. Settled among the southern "high plains" region of New Mexico, this mountain town is an unexpected high-elevation paradise. In fact, in many parts of Cloudcroft you can actually see all the way down to White Sands, NM below.
Cloudcroft and the surrounding forest areas have an abundance of tall, mature aspen trees. When these trees change, it creates a gorgeous golden atmosphere that is entirely too enviable. If you're wondering where to see fall colors in New Mexico, make sure you put Cloudcroft near the top of your list.
You can find beautiful fall foliage nearly anywhere in Cloudcroft, but taking a trip down the Sunspot Scenic Byway or travelling south towards Weed, NM are good places to begin.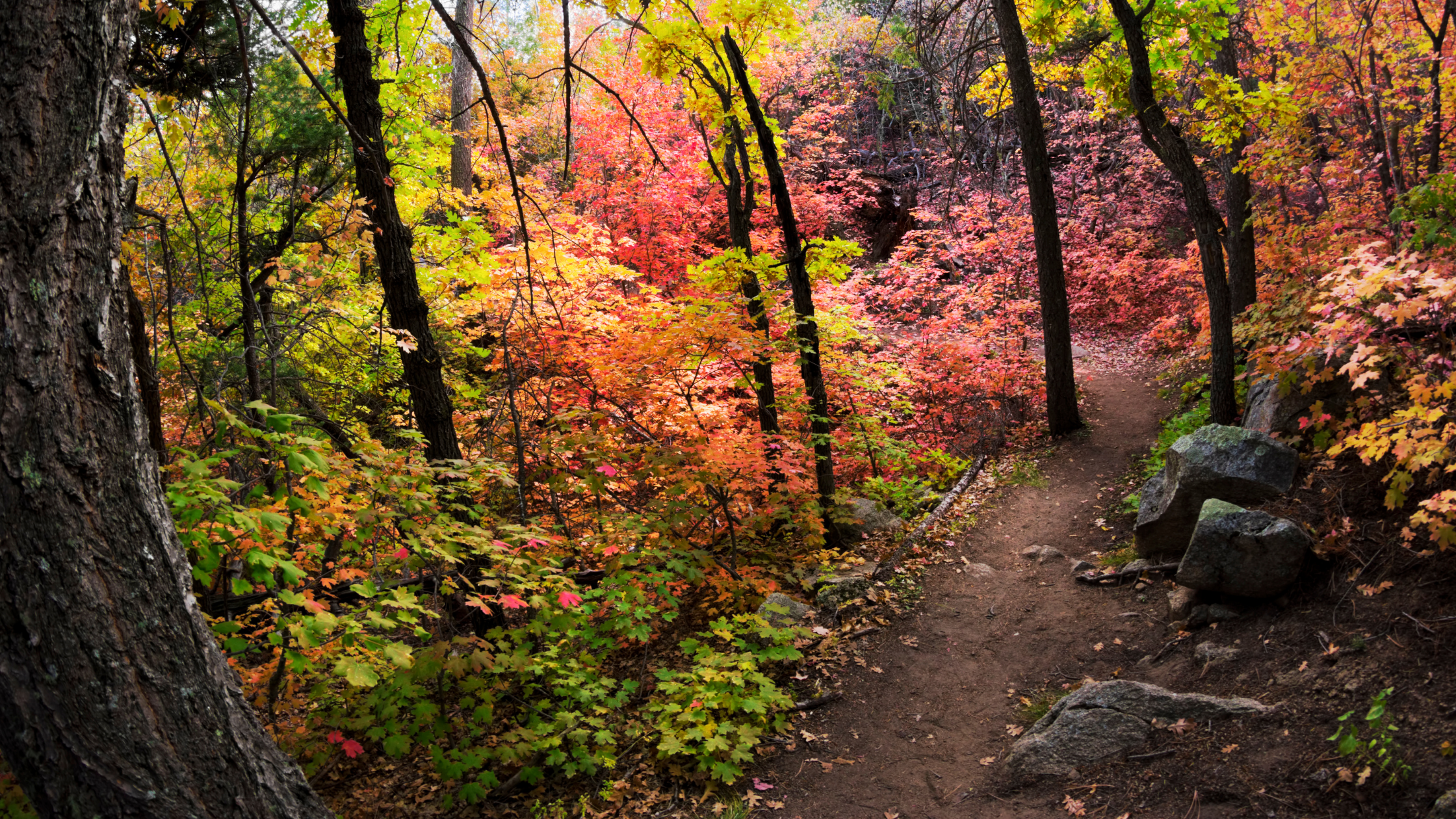 3. Fourth of July Canyon
Fourth of July Canyon, near Estancia, NM is perhaps one of the objectively best places to see fall colors in New Mexico. Located a mere 1.5 hour drive from Albuquerque, this part of the Manzano Mountains feels distinctly different than other forests in New Mexico. This is because of the difference in foliage.
Most of the mentions in this article surrounding fall colors in New Mexico will be regarding the changing of aspen trees — a tree that turns a glowing gold color in the fall. However, at Fourth of July Canyon, you're likely to see a different range of fall colors. According to Tripsavvy,
The area has the largest and densest stand of bigtooth maples found in the area. They blaze red and the scrub oaks turn yellow, making for a spectacular display.
The campground located at Fourth of July Canyon offers a number of hiking opportunities — from short < 1 mile hikes to longer day-length hiking trails. If you plan to visit, check with the forest service to see what is currently open and also to check on the status of the changing leaves.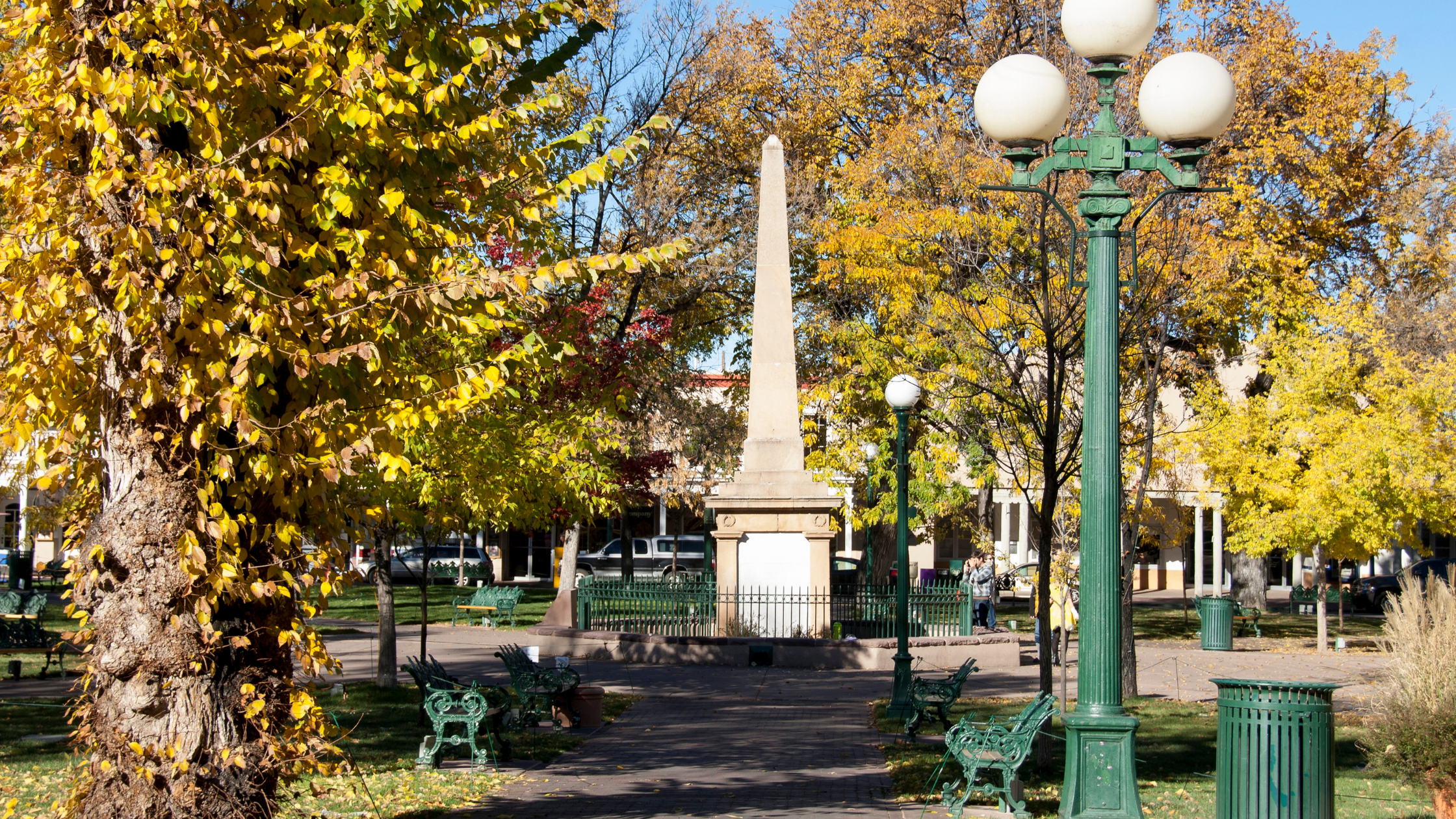 4. Santa Fe
Santa Fe, NM, our state's capital, is one of the state's most popular tourist destinations; and for good reason. Santa Fe offers fun and intrigue for people of all ages, year round. However, when it comes to finding a place to see fall colors in New Mexico, Santa Fe is something special. There is just something about the coupling of beautiful Spanish colonial architecture and history with the warm tones of fall.
If you plan to travel to Santa Fe to check out the fall colors, a good place to start is taking the Santa Fe National Forest Scenic Byway. According to the state tourism board,
When the aspen leaves burst into fiery gold and crimson in late September, the hillsides between Hyde Memorial State Park and Ski Santa Fe take on an almost ethereal, shimmering aura when angled sunlight filters through the quaking leaves.
Another popular spot near Santa Fe for viewing the changing fall colors in New Mexico is Nambe Lake. Nambe Lake has a recreation area as well as a 6.5 mile hiking trail. The serenity here is unmatched. However, the elevation is quite high here so peak fall foliage colors will happen earlier than some other mentions on this list.
If you miss out on the peak colors at Nambe Lake, a lower-elevation option is also available nearby. Check out Valles Caldera to see beautiful colors later in the season.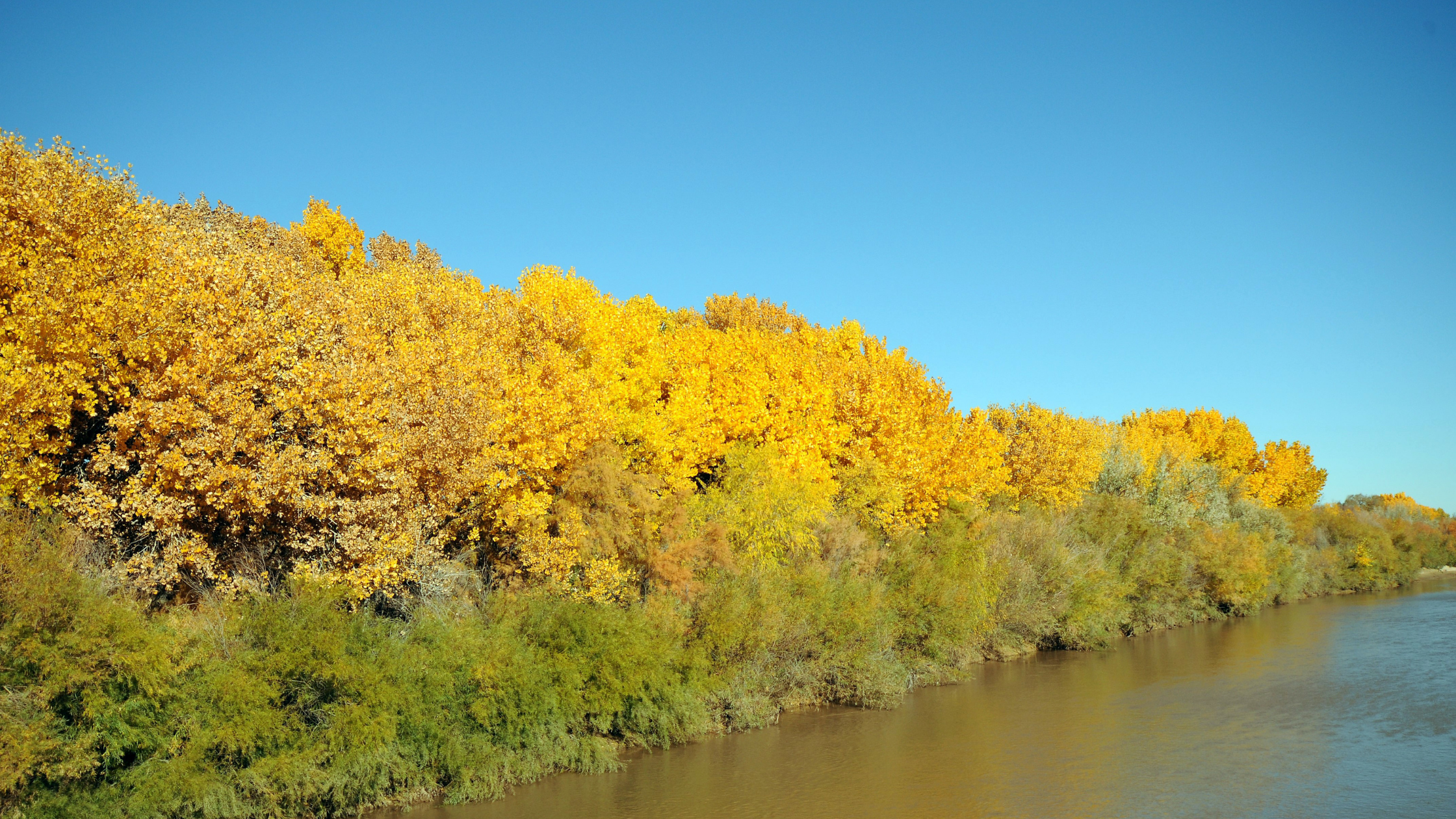 5. The Bosque along the Rio Grande
In many parts of the state, you can access the Rio Grande. Much of the river is lined by forest land — or bosques. These forests feature huge cottonwood trees largely fed by flooding along the river. When fall rolls around, these monstrous trees change to a beautiful golden color.
Though you can visit the river in many different cities and towns across the state, Albuquerque and Rio Rancho offer perhaps the most developed facilities to do so. There are a number of pieces of land throughout the Albuquerque metro area designated as "open spaces." A number of these spaces, like the Tingley Beach area and the Paseo Del Bosque Trail provide a space to explore the river and the fall foliage freely.
Where to see fall colors in New Mexico? The possibilities are endless.
If you're asking yourself where to see fall colors in New Mexico, you don't have to limit yourself to what is listed above. New Mexico is full of nature, and therefore full of opportunities to see the gorgeous fall colors when the leaves change.
However, hopefully our suggestions provide a starting point to answer your question, "where to see fall colors in New Mexico." We hope you'll take a moment (or a long weekend!) to go out and explore the gorgeous state of New Mexico.