3 Things You Need to Know About the Santa Fe Housing Market
Posted by Elizabeth Karsten on Friday, October 9, 2020 at 12:04 PM
By Elizabeth Karsten / October 9, 2020
Comment
Santa Fe, NM is an illustrious, enchanting place to call home. Whether you grew up in the area or are relocating from out of state, there is no reason to question why people are so anxious to put down roots in North America's oldest capital city. The combination of history, art and culture make Santa Fe a unique city — and, of course, this means that the Santa Fe housing marketing is unique as well.
Before moving to Santa Fe, there are a few things you need to know. Luckily for you, we're offering up our expertise. We've been in the New Mexico real estate industry for over 30 years. Read on for everything you need to know about the Santa Fe housing market.
1. The Santa Fe housing market is a seller's market
Right now, the Santa Fe housing market favors home sellers over home buyers. Why is that? The market that Santa Fe is currently experiencing is pretty straightforward: there are more buyers looking for homes in Santa Fe than there are homes for sale. Industry insiders often refer to this as an "inventory shortage."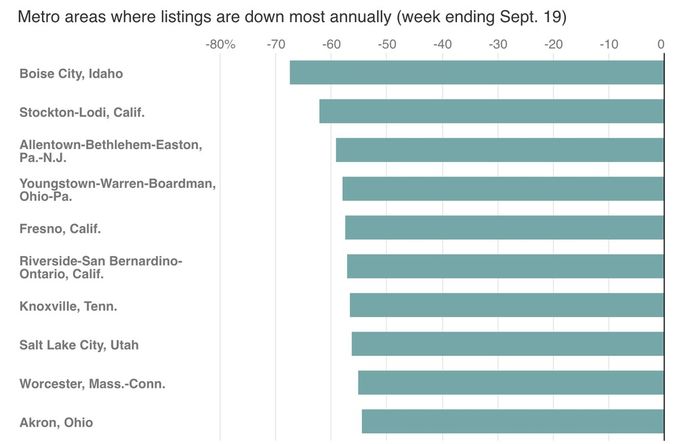 Source: realtor.com | Mansion Global
According to a report from Realtor.com, this trend is not exclusive to the Santa Fe housing market, however.
In the roughly six months between the start of the pandemic in March and mid-September, 2.91 million homes have been put on the market, roughly 390,000 fewer than the same time in 2019
All that this means for buyers in the Santa Fe housing market is that it is important to be prepared. A good realtor will help you get everything in order so that, when you do find a home that you like, you're prepped and ready to put in a very compelling offer. Of course, time is of the essence when buying a home in a seller's market.
2. Santa Fe real estate is expensive when compared to the national average
According to Zillow, the median home value of single family homes and condos in the United States is $256,663. However, in the Santa Fe housing market, the media home value is $479,000 according to the most recent report on Realtor.com. Furthermore, the average list price for single-family homes is even higher at $604,499. Buyers looking in Santa Fe need to be aware that the price of homes in Santa Fe is higher than the national average.
However, that does not mean that there aren't any affordable homes in Santa Fe. In fact, there are almost always homes for sale in Santa Fe that are listed below the national average. Below are some examples.
3. Location is nothing to scoff at
In the Santa Fe housing market, location is one of the key determinants of a home's list price. Since Santa Fe is such a tourist destination, there are number of amenities and locations that influence a home's value.
If you're looking for a good deal, try expanding your search geographically. You'll definitely see home prices drop the farther away from the action you go. However, there are some unique exceptions. For example, the Santa Fe Opera is rather remote, yet home values nearby are influenced by the novelty of the venue. Another example of this phenomenon is homes near Ski Santa Fe.
For an example of how much price can vary across different neighborhoods of the Santa Fe housing market, check out this excerpt from a recent report in the Santa Fe New Mexican.
Tesuque and northern Santa Fe County had a remarkable median price increase of 93 percent, from $399,000 in 2019 to $769,500. The northwest quadrant, including Las Campanas and the surrounding area, saw the median price increase over 4 percent to $885,000. Old Las Vegas Highway and southeast Santa Fe County homes had a 7.5 percent appreciation in home prices, while southwest Santa Fe County, including the Rancho Viejo and N.M. 14 areas, experienced almost a 10 percent increase from $365,000 to $398,850 this past quarter. And Eldorado continues to chug along, with the median selling price increasing to $440,000 from $417,500 in 2019.
The Santa Fe housing market is ever-changing
The Santa Fe housing market is always changing. Though the market currently favors sellers, there is no reason to think this favor is permanent. And, considering that interest rates are extremely low right now, buying in the Santa Fe housing market might be more achievable than you think.
If you're considering buying or selling in the Santa Fe real estate market, we'd be honored if you chose to work with us. You can contact us at no obligation to learn more about the service we offer. Fill out the form below if you're ready to get started.
Contact Karsten & Associates