A Guide to Moving to Albuquerque in 2020
Posted by Elizabeth Karsten on Friday, August 28, 2020 at 12:00 PM
By Elizabeth Karsten / August 28, 2020
Comment
A Guide to Moving to Albuquerque in 2020
Albuquerque has a lot to offer. The Duke City is the 32nd most populous U.S. city and is the highest metropolitan U.S. city by elevation — meaning you get unparalleled access to nature and forest areas alongside a sprawling urban metropolis. Beyond that, our city is filled with culture, history and the arts. If you're considering moving to Albuquerque, we're here to help. With over 30 years in New Mexico real estate experience, who's better to provide advice on moving to Albuquerque than our incredible team?
1. Find a place to live in your price range
With so many cities across the country, which neighborhood you live in is determined by the amount of money you make. Albuquerque is a little bit different. While there are luxury homes available in Albuquerque, they are not concentrated in one specific neighborhood. In fact, most neighborhoods have houses fit for folks of all different income levels, meaning you really get to pick your ideal area without worrying too much about whether or not you'll be able to afford it.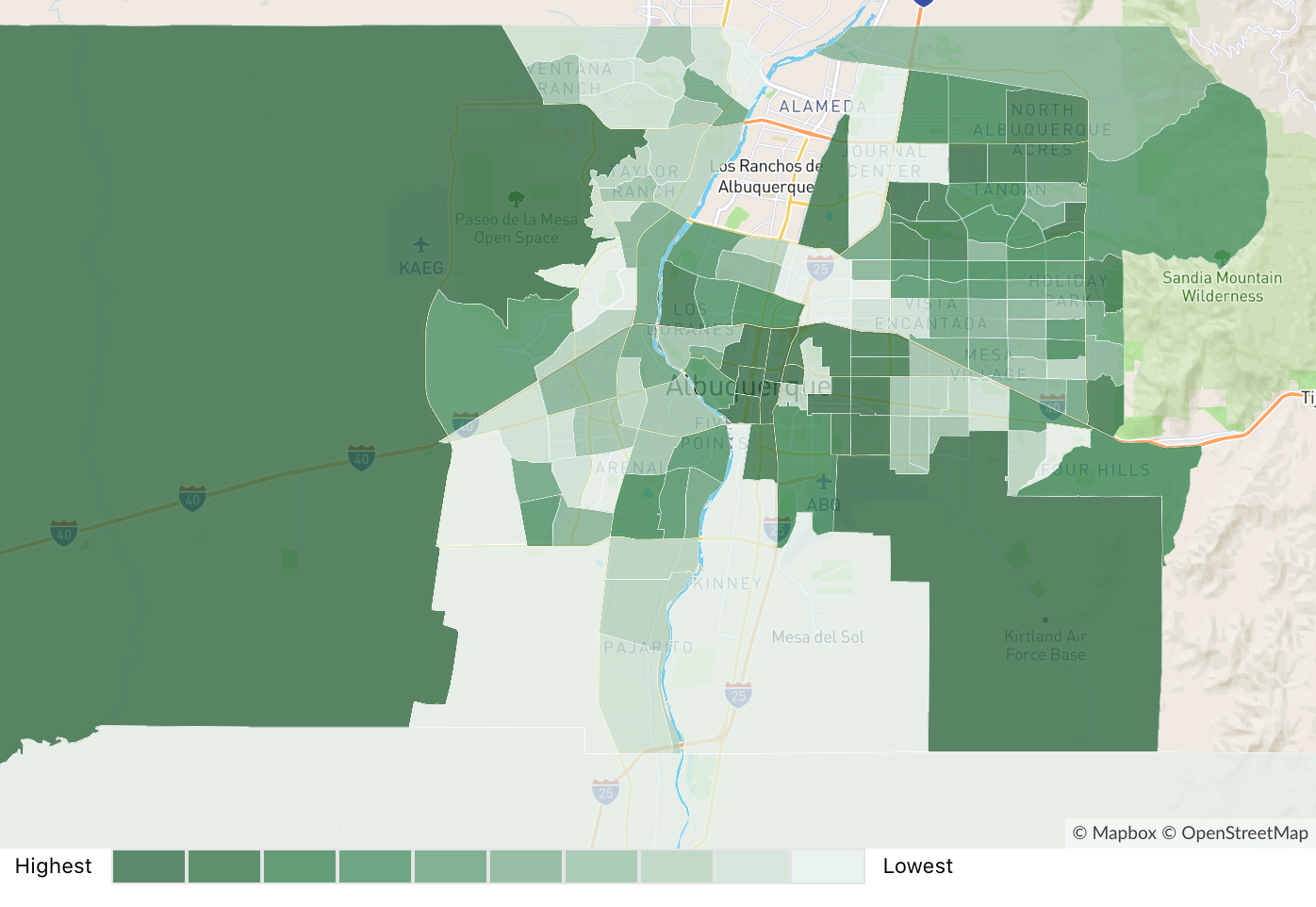 Source: Neighborhood Scout
As you can see by the map above, even Central Albuquerque, Nob Hill and the Northeast Heights, Albuquerque's most in-demand neighborhoods, can offer affordable housing.
As of Friday, August 28th, 2020 | Source
Median home price over past 6 months is $177,500
Average price per SqFt is $148
Average length on market for homes is 156
If this will be your first home buying experience, we encourage you to sign up to receive our First Time Home Buyer's Guide. It's FREE and contains a ton of information.
2. Think about your commute
In all honesty, even the longest commute in Albuquerque doesn't compare with long commutes in other large cities. Albuquerque is fortunate to have two major interstates that run perpendicular to each other — I40 and I25. This means that most of the city has quick access to an interstate. Albuquerque drivers do have an ongoing stigma, so make sure you do your part to contribute to a safe road system if you do plan on moving to Albuquerque.
According to Bestplaces.net, the average one-way commute in Albuquerque is about 21 minutes.
Albuquerque also offers a number of public transit options including the newly-completed ART system that services Central Ave., a main thoroughfare for the city accessing Albuquerque's most popular destinations.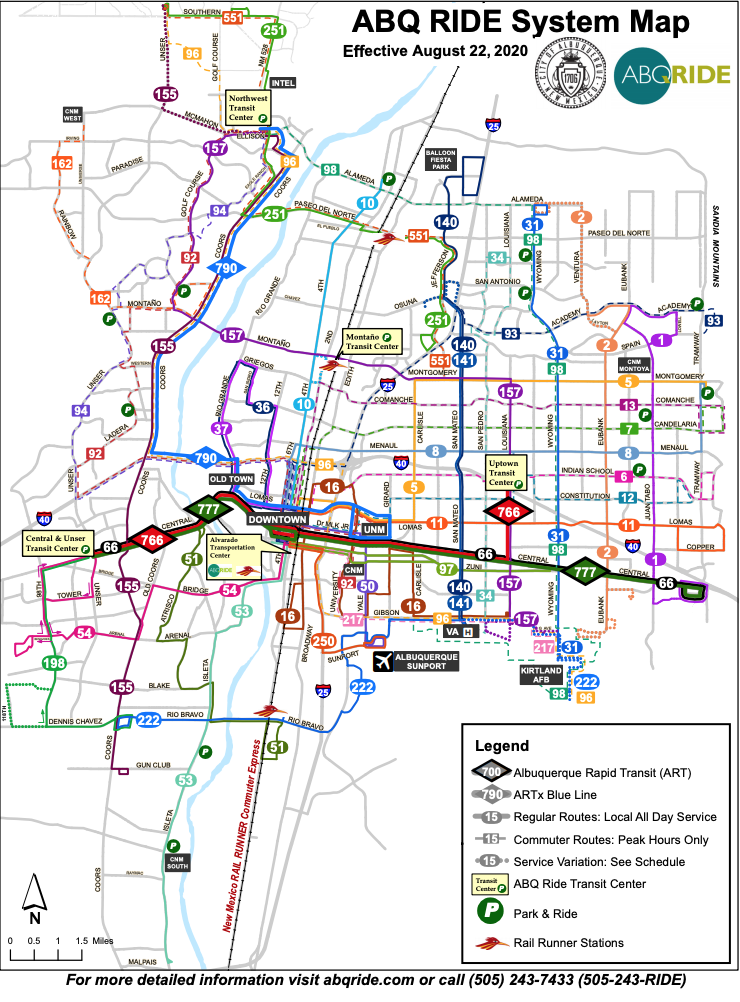 If you're a biker, you're in luck. Albuquerque offers tons of bike routes that will get you to the most scenic destinations and the most happening spots in town.
3. Interested in living outside the city?
There are a number of suburban options for you if you'd prefer not to live in the heart of Albuquerque.
For starters, there is Rio Rancho, NM. According to the "City of Vision's" city website,
"Rio Rancho is the 3rd largest city in New Mexico, the fastest growing community in the state, and one of the fastest growing in the southwest. Rio Rancho has been recognized as one of "America's 50 Best Cities to Live" citing exceptional public schools and well below national average crime rates (24/7 Wall Street). Rio Rancho sits at an elevation of approximately 5,290 feet and enjoys a picturesque view of the Sandia Mountains."
Rio Rancho does have a population of just under 90,000 people. If that's still too populous for you, there are a number of other rural suburbs that still offer quick access to the city. These include:
Cedar Crest
Tijeras
Sandia Park
Coralles
Bernalillo
Check out the search tool below to find homes for sale in Albuquerque's suburbs.
4. Prepare for the actual move
Now we can get down to the nitty gritty of moving to Albuquerque.
Your first step is to estimate the cost of the move and make arrangements with a moving company or storage facility if necessary. It's easy to calculate the cost of moving using this calculator. It's also a good idea to take a look at this comprehensive guide to moving from one state to another.
You can find a list of Albuquerque moving companies with reviews here.
There are also several important bureaucratic steps you must take upon moving to Albuquerque.
5.Say hello to your new life
Now it's time to initiate your big move and say hello to your new life. After moving to Albuquerque, you'll have the chance to enjoy our beautiful city and state. Make sure you find tons of parks to visit, local activities to take part in and attractions to visit.
We hope you'll enjoy your new home after moving to Albuquerque. If there is anything we can do to make your move easier or anything we can do to help you find your ideal residence here in the Duke City, please don't hesitate to contact us. We have over 30 years of real estate experience and have helped tons of families and individuals with moving to Albuquerque.